On June 29, 2022, the seminar "Pharmaceutical Sciences: Recent trends and application" was officially opened online through the Zoom platform.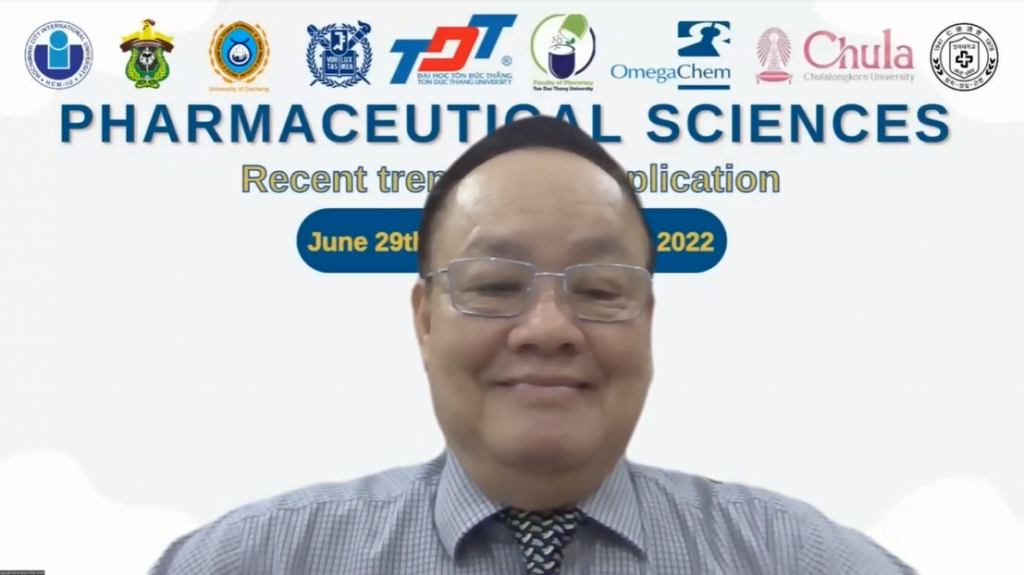 Seminar took place from June 29 to June 30, 2022, organized by the Faculty of Pharmacy, Ton Duc Thang University, with the participation of many scientists, experts, and graduate students from the following countries: South Korea, Canada, Cameroon, Thailand, and Vietnam. These include Seoul National University (Korea),...
With the theme Pharmaceutical Sciences: Recent trends and application, the program had the participation of 06 international delegates, 01 domestic delegates, and 05 lecturers from the Faculty of Pharmacy Ton Duc Thang University with 12 topics.
No.

TITLE

INDICATOR

NOTE

SECTION 1 - 8:30-11:00 (29/06/2022)

 

Opening Remark

 

 

1

Multi-functional materials for biomedical applications

Ut Dong Thach, Ph.D

Faculty of Pharmacy, TDTU

2

CRISPR/Cas9 genome editing-mediated restructuring of tumor immune microenvironment for prevention of metastasis

Dongyoon Kim, Ph.D

Seoul National University, Korea

3

Nanomedicine for photothermal cancer therapy and cancer immunotherapy

Quoc-Viet Le, Ph.D

 Faculty of Pharmacy, TDTU

4

Vitamin E derivatives as natural anti-inflammatory agent: from hit to lead

Chau Phi Dinh, Ph.D

OmegaChem, Canada Quebec, QC

SECTION 2 - 13:30-16:30- (29/06/2022)

1

Studies on cytotoxic and antioxidant secondary metabolites of Vietnamese plant Aspidistra letreae

Hien Minh Nguyen, Ph.D

Faculty of Pharmacy, TDTU

2

Isolation and bioactivity of natural product in Cameroon

Assoc. Prof. Maurice Ducret Awoufack, PhD

University of Dschang, Cameroon

3

Seaweed as a source of novel bioceuticals

Bao Le, Ph.D

Faculty of Pharmacy, TDTU

4

Pharmacologic ascorbate primes pancreatic cancer cells for death by rewiring cellular energetics and inducing DNA damage

Visarut Buranasudja, Ph.D.

Chulalongkorn University, Thailand

SECTION 3 - 8:30-11:30- (30/06/2022)

1

Developing a quantitative HPLC method for the simultaneous determination of multiple saponins in Panax vietnamensis by a single reference standard

Huy Truong Nguyen, Ph.D

Faculty of Pharmacy, TDTU

2

Functional omics for the advancement of personalized and predictive medicine

Phuoc Long Nguyen, M.D. Ph.D. Assistant Professor

Inje University

College of Medicine, Department of Pharmacology PharmacoGenomics Research Center (PGRC)

3

Click-type reaction as an approach to finding new active compounds

Muhammad Aswad, Ph.D

Hasanuddin University, Indonesia

4

Silver nanoparticles, their potential in fighting antimicrobial resistance

Thi Thu Hoai Nguyen, PhD. Associate Professor

International University, Vietnam
This seminar is an opportunity to scientists to meet and exchange, to strengthen the network of international cooperation, and to share knowledge in the field of Pharmacy. In addition, this seminar is an opportunity to promote Ton Duc Thang University to domestic and foreign scientists and businesses and help Ton Duc Thang University students have the opportunity to exchange and exchange academics. Therefore, this event aims to expand opportunities for students to cooperate in exchanging scientific research and professional internships.
Here are some photos from the conference: